Sean Fleming
University of Arizona, USA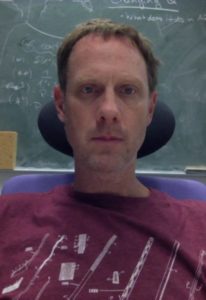 contact @JGU Mainz:
Institute of Physics (WA THEP)
Staudingerweg 7, 04-134
55128 Mainz
Tel.: +49 6131 39-36197
Fax: +49 6131 39-24611
Email: userid@uni-mainz.de
Userid: sfleming
Currently my research interests lie in the realm of high-energy quarkonium production with applications to transverse-momentum dependent phenomena. I use effective field theory techniques, including soft collinear effective theory (SCET) and non-relativistic QCD (NRQCD); either alone or in combination. 
Florian Goertz
Universität Heidelberg
contact @JGU Mainz:
Institute of Physics (WA THEP)
Staudingerweg 7, 05-225
55128 Mainz
Tel.: +49 6131 39-22407
Fax: +49 6131 39-24611
Email: userid@mpi-hd.mpg.de
userid: florian.goertz
Martin Bauer Universität Heidelberg
Former visitors (since Fall 2017)
Jens Erler (IF UNAM, MX)
Justin LIEFFERS (University of Arizona, USA)
Rodolfo FERRO HERNANDEZ (IF UNAM, MX)
Amodio CARLEO (University of Pavia, I)
Siddhartha Emmanuel MORALES GUZMÁN (UNAM, MX)
Preshin MOODLEY (University of Cape Town,
Margarita GAVRILOVA (JINR, RU)
Florian SCHWARZ (University of Würzburg, D)
Andrey A. GROZIN (Russian Academy of Sciences, RU)
Emmanouil Georgios DRIMALAS (National University of Athens, GRE)
Andres F. REYES LEGA (Los Andes University, Colombia)

Saereh NAJJARI (Vrije Universiteit Brussel, BL)
Kirsten TEMPEST (University of Glasgow, UK)
Alexes MES (University of Cape Town, ZA)
Cesareo DOMINGUEZ (University of Cape Town, ZA)
Mikhail A. IVANOV (JINR Dubna, RU)
Anton STOYANOV
Liu HUO
Ivan ESTEBAN
Blaženka MELIC (Ruđer Bošković Institute, Zagreb, CRO)
Xavier CALMET (University of Sussex | Personal homepage)
Stefan GROOTE (Tartu Ülikool Füüsika Instituut, Tartu, Estland | Personal homepage)
Ravindran VAJRAVELU (Institute of Mathematical Sciences, Chennai, India)
Yi CHUNG (National Taiwan University)
Sihong ZHOU (Inner Mongolia University, Hohhot, China)